VIDEOTAPES BY JAY YAGER
---
THROWING A BRONZE AIRPLANE IS LIKE LEARNING TO WALK
1981 black & white 26 min. 30 sec.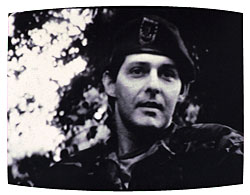 Description:
Michael McKenzie was a member of the U.S. Army Special Forces in Vietnam in 1966 and 1967. In December, 1967, he was severely wounded. He was returned to the United States where, after his recovery, he pursued an education in fine arts. This tape is a glimpse of Michael's Vietnam War and his life since.
---
NICK'S JOURNEY 1983 black & white 58 min. 30 sec.
Description:
Nick Cannizzaro was born and raised in the Bensonhurst section of Brooklyn, New York. This tape traces his odyssey from streetgangs, motorcycle gang, the drug scene of the 60's, heroin addiction, and attempted suicide through his quest for spiritual enlightenment in India and Tibet to his currently developing career as an artist.
---
UNDERSCORE 1984 black & white 4 min. 37 sec.
Description:
A young woman is repeatedly "branded" by subtitles in the presence of The Bill of Rights and the network news. A metaphorical view of the media's subtle manipulation of individual identity.
---
LUND'S SCENIC GARDEN 1984 color 26 min. 50 sec.
Description:
Retired magician and evangelist preacher, E.K. Lund, talks about the Bible wonderland that he and his wife created in a cedar swamp near Maple City, Michigan.
---
DIANE AND IAN GET TATTOOED 1988 black & white 19 min. 47 sec.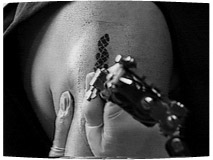 Description:
The hand held camera watches as Diane and Ian receive their tattoos in the studio of tattoo artist, SuzAnne Fauser. During the process the principals discuss various aspects of tattoos and tattooing while the FM radio plays rock music in the background.
---
ON THE STREET 1989 color 20 min. 12 sec. mono. sound: ch. 2
Description:
In our throw-away society thousands of homeless and hungry people remain unproductive and unfulfilled rejects simply by having been defined as such by the commercial/industrial power structure. Using insightful statements from the people themselves, this tape looks at the homeless as wasted human resources of the wealthiest nation in the world.
---
STORM 1991 color stereo 2 min. 36 sec.
Description:
A night storm in a quiet suburban neighborhood is punctuated by intermittent flashes of the symbols of blind patriotism and the war it supports. In society as in nature, the initial forces that lead to violence often appear quite tranquil.
---
HOT MUD: THE WORK AND THOUGHTS OF DANIEL JOHNSTON
2010 color stereo 60 min. 33 sec.
Description:
A video documentary focusing on the work and thoughts of studio potter Daniel Johnston.The narrative follows him through a firing cycle: processing the clay, making and glazing the ware, loading and firing the kiln, and greeting the public at the kiln-opening sale. Along the way we get many insights into Daniel's history and his views on life and art.
---